The climb of a photographer and graphic designer : Mohamed Abdelhay. We will discuss how taking pictures with your mobile can be the base for quality graphic design creatives. We sent Mohamed Abdelhay a few questions on his Instagram account @Mohamedabdelhay96. Mohamed Abdelhay emphasized that the photo has a strong role, importance and impact, as it is said to do without a thousand words, which is a statement supported by reality, as the image has managed in more than one event to mobilize public opinion towards certain issues and change international attitudes and policies.
Mohamed Abdelhay: 'Inspiration is all around us. "Landmarks, the news, a fun conversation with friends, and music can all be a source of inspiration,' In the end he tell us that he doing that just to practices his talent and because he love pictures and designing, not for money, even if he does all this without any financial compensation. He love to paint photorealistic and all types of pictures, and this was actually a good base for what he's doing now.
Mohamed Abdelhay said Before the computer era, the illustrations illustrated by hand were considered one of the strongest and most beautiful means of expressing the meaning of the printed material, but with the entry of the computer to the world of design, the illustrative designs became commercial in nature, moving away from the aesthetic side compared to those hand-drawn images, but some professional designers opened Their appetite for this type of technology and they produced the most powerful designs in the history of design, especially since the designer no longer needs to be a skilled painter to draw pictures by hand and add them to his design.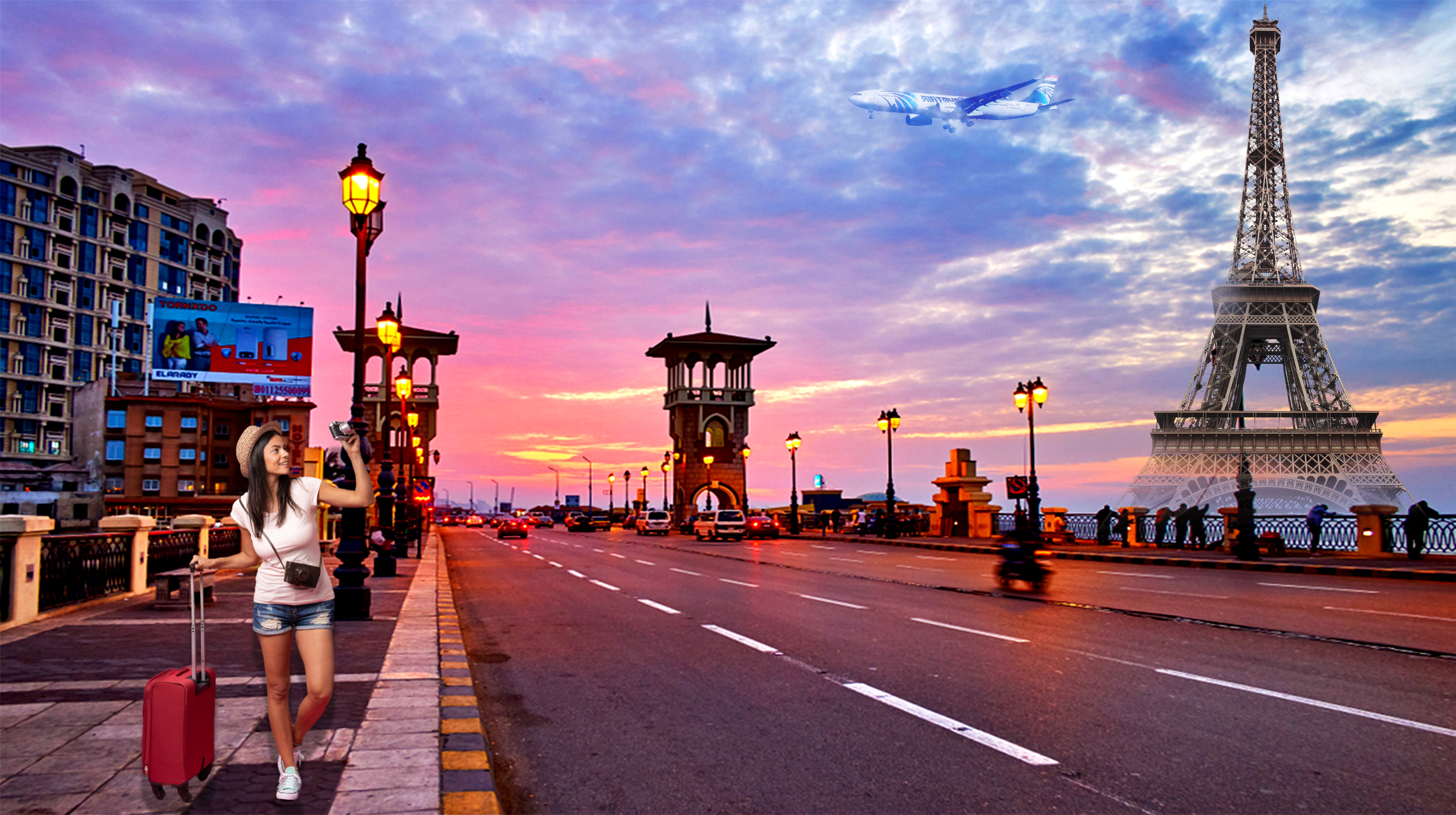 That the graphic language is the most important and alternative language for many things that were used in the past, because of its vocabulary and expressive meanings for cases in different sectors of life, whether the economic or social sector and in all sectors and details of life.
Mohamed Abdelhay also stressed that he does this without any money and for free in order to draw laughter and joy in the face of others by modifying their photos and restoring the past photos to the present and that he does not seek any exchange for money but rather he does this to exercise his talent because he loves design and Photography.
Mohamed AbdelHay indicated that the potential energy of memories and stories anywhere that inflames the feelings of the photographer and explodes the energies of creativity and genius, to come out with a pulsating image, the surrounding environment and the extent of the photographer's communication with it certainly means pictures that compel the recipient to stand with it for a longer time.
There are several factors on which success of graphic design depends which makes it difficult to differentiate between a particular graphic design rather it is a good design or bad design. Graphic designs are an ideal mixture of both the universe of art and design. Though art concerns the individual understanding of the things and hence is emotional, realistic plans serve a specific capacity. Graphic design is exceptionally fundamental in media outlets as it an incredible narrating gadget. A solitary structure can do all the talking for the item.
Mohamed Abdelhay certified photographer and graphic designer helped many peoples through Instagram account @mohamedabdelhay96 in which Ali is included and he explained his pleasant experience in these words." When he fixed (Edited) my picture, I was captivated by the inclination I got as though the new picture was conversing with me helping me to remember how incredible that memory was". Mohammed describes his learning adventure that " I have never envisioned that the scrawls I was making when I was a child could make a suggestive photographer and graphic designer out of me".In our more occasion, he says " I generally realized I would have made a name for an artist. As I became more established, be that as it may, I realized being a decent fashioner."
Search photographers with PhotoBooker by Zenfolio: looking to find a photo professional for your event, either a family event or a corporate event ? But first let me give you one tip about how to get awesome party photos.
Using props, this is always fun. People seem to love this and it often brings the party together. In my experience, props can be anything from a hat, funky glasses or a fake mustache. For instance, In a Halloween event I was shooting, I printed out business cards with different kinds of "smiles" on the back of them. Then I had people hold it up to their mouths as a sort of impromptu, quasi-costume. At first, people didn't really know what to make of them, so I would say, "Hold it up to your mouth!" And when they start getting it, most would react somewhere along the lines of "Ohhhhhh! That's awesome!" That reaction is a great thing to capture in a photo.
Quickly find a top-rated photographer near you. Then book the right one for your special moment with a few simple clicks. Relax and enjoy the moment as an experienced photographer captures it. They'll take care of all the details. Within 48 hours of your photoshoot, you'll be able to view, download and share. Enjoy it all again and again. Photographers set their rates while you set your own budget. This way, you can find the photographer that best fits your needs. The photographers go through a verification process to make sure they're real and offer quality work. All you have to do it enjoy your shoot. We make it easy for you to get the help you need. Our customer support team is always here to help via email/chat and more.
Where are the photographers based? The photographers are based around the locations you select when searching for photographers near your area. Their photography studios can span from an in-house studio to a traveling photographer who works off their laptop. Read even more info at https://www.photobooker.com/about/how-it-works.
Find your photographer: Search your local photographers. Quickly find one that's just right for your occasion, and near you. Browse their work and save your favorites. Save the date: Once you've selected your photographer it's easy to book online 24/7 with a few simple clicks. Get everything set beforehand, so you can relax on the big day. Share the smiles: Stay connected with your photographer before, during and after the shoot. After they've captured the magic of your big day you can choose from several easy options to share.
PhotoBooker is also for photographers! Google Calendar Sync: Makes it easier than ever to manage your PhotoBooker availability. No more double bookings or schedule conflicts, now you can change your schedule on the fly (in either calendar) and relax knowing both calendars will be updated automatically and in real-time.
And here is our daily trick for photographers: Watch Out for Candid Opportunities. The formal shots are necessary for events (especially for birthday and wedding photography). But don't forget about candid moments, which can lead to equally beautiful photos. Candid moments express personality and vibrancy. Oftentimes, candid photographs are the ones your clients will cherish the most. But not all candids are equal. Try to avoid unflattering candid moments such as someone chewing food or making a bad face. I can promise that those images will not be appreciated. Photograph the venue, table settings, and other beautiful details before the guests arrive. These are just as important as the story that unfolds. Many clients don't think about this. But they will appreciate a snap of the setting that they spent so much time (and money) on.
Who owns PhotoBooker? Zenfolio, Inc. founded in 2006, is the leading all-in-one website and e-commerce solution built for professional photographers and their clients. Today, Zenfolio works with over 100,000 photographers helping millions of consumers capture and enjoy their photo memories. Discover extra details at https://www.photobooker.com/.